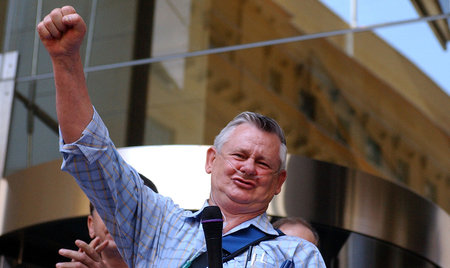 End of a chapter as the Bernie Banton Foundation Winds Up
The Bernie Banton Foundation is in the process of winding up, and will cease operating by 30 June 2020.
Winding up the Foundation was not a decision that was taken lightly, and was reached after two years of work on succession planning by Karen Banton, myself and the Bernie Banton Foundation Board.
All at the Foundation are greatly appreciative of all those who have assisted the Foundation to fulfill Bernie Banton's beliefs since the Foundation was established and launched in 2009 by Bernie Banton's widow Karen Banton, and like-minded supporters.
The Bernie Banton Foundation has ceased fundraising or accepting donations as of 28 January 2020. Should you have bequeathed money to the Foundation, we would suggest you change your will. We recommend you consult with an applicable legal expert to do so.
Karen Banton, myself and the Bernie Banton Foundation's Board of Directors would like to thank all those who have supported the Foundation via donating, fundraising and sponsorship over the last eleven years.  Without your support the Foundation could not have provided its' asbestos related diseases support and patient advocacy services, and asbestos awareness and education it has become widely recognised for across Australia and New Zealand. Every dollar donated, fundraised, sponsored or given in kind has helped and meant a lot – we are truly grateful.
We would ask that you consider supporting those who have supported us for much of the Foundation's existence, by using their services should you have a need [click here to view a list of our Corporate Supporters].
Tor read the media release announcement, click [here]
To read more about the winding up of the Bernie Banton Foundation, please click [here].
Rod Smith
Awareness & Support Co-ordinator
Bernie Banton Foundation