'ONE IN A MILLION' BERNIE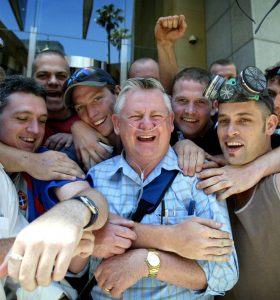 Bernie and I met and married in 1991. We were blissfully happy and life was wonderful. We attended a New Year's Eve party (1998) where Bernie recognised a lady he had not seen in many years. Her late husband had been Bernie's shift foreman at James Hardie Bradford Insulation – a factory that manufactured asbestos lagging for power stations. Bernie had worked there from 1968 to 1974.
Hearing Eileen share of her husband's battle with mesothelioma – it suddenly occurred to me why Bernie had experienced unusual breathlessness months earlier at Thredbo ski resort. In July that year, we had driven to the Snowy Mountains with our young son Dean for a ski holiday. As soon as we were on the snow, Bernie complained he could not breathe properly. So instead of skiing, he sat out the week watching beginner skiers attempting to stay upright, while Dean and I 'hit the slopes'. We returned home and Bernie's health seemed fine, so we gave his 'high altitude' breathlessness no more thought.
Bernie was diagnosed with asbestosis early 1999. From that time on, our lives were forever changed. By February 2000, Bernie could no longer continue in the funeral industry due to the physical nature of his work. From late 2000 onwards, Bernie and I became very involved in advocacy with a Sydney-based asbestos related disease (ARD) support organisation.
Early in 2004, the New South Wales State Government initiated a Special Commission of Inquiry regarding James Hardie's move offshore, and Bernie (now requiring supplemental oxygen 24/7) became the public face on behalf of ARD sufferers in the fight for justice.
Eventually, the 'victims' became the victors, and in February 2007 Hardies commenced payments to an Asbestos Injury Compensation Fund, an agreement expected to amount to $4.5 billion over a 40-year period.
The cause became all-consuming for Bernie, his passion and tenacity 'winning the day' concerning many asbestos related issues. However this unrelenting effort took a huge toll on his health. It greatly impacted our family life also.
On August 17, 2007 Bernie was diagnosed with peritoneal mesothelioma. Once again, he fought valiantly. Ready to enter into heavenly rest, Bernie died peacefully on November 27, 2007. Bernie Banton AM was honoured and farewelled by thousands of Australians at a State funeral.
Bernie's legacy of helping others lived on through the Bernie Banton Foundation, established in 2009, and continues through this website.
Karen Banton