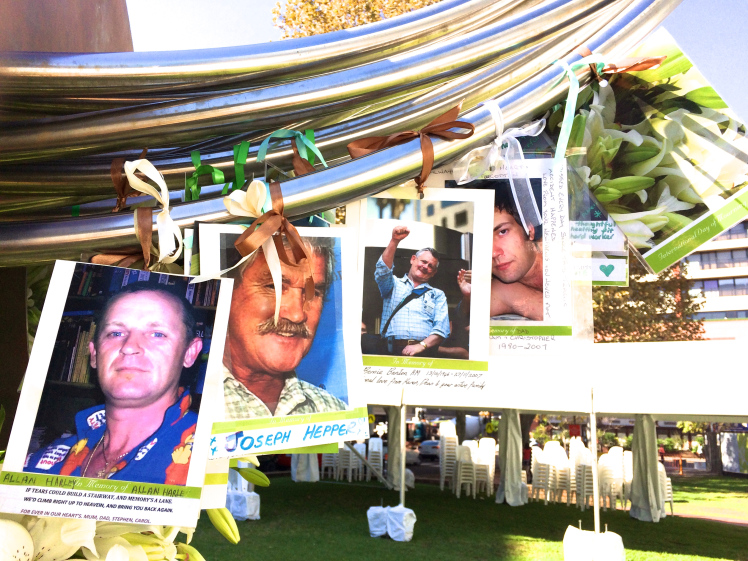 International Day of Mourning 28 April 2016
Memorial Service – Reflection Park, Darling Harbour, Sydney NSW Australia
The International Day of Mourning Memorial Service may have come and gone for another year – but the very essence of its reason for being, remembering those who lost their lives due to workplace accidents and causes, should continue on for another year.
I attended this really wonderfull event with my darling, Karen Banton and my step son Dean Banton.  It is always a day full of emotion.
The weather was glorious, which for Sydney is rather unusual, the sun was out, it wasn't humid, the sky was blue, no wind nor rain how good it was!  Sort of fitting for such a day.The tragedy of losing a loved one to an accident or cause that could, and should have been avoidable, is on open display and serves as a poignant reminder of the fragility of life.
I am not certain an event such as this could be, or is done any better! Unions NSW really are to be congratulated, year after year the day just seems to get better and better.
There were concerns how it would go with Reflections Park partially taken over by a construction site next door. But, if anything, the new layout seemed to enhance the event.
Reflection Park holds special significance for the Banton clan and all at the Bernie Banton Foundation. When Bernie Banton AM was asked what the park should be, he replied, "It should be a place for reflection." – indeed, this is what it has turned out to be.
It is hard to put in words the emotion this day brings with it. For me, it brings my Jules to the fore,
whilst she didn't die at work, it was her father's work that killed her, as he brought home asbestos dust on his clothes – giving his one and only child a death sentence she didn't know she had, until she was diagnosed with the asbestos cancer, mesothelioma, 50 years later. Julie and I were grateful that Pop was not alive to know what he had unwittingly done, as we knew his grief would have been inconsolable!
Personally my head space was really only in one place, and when a person in conversation asked me what I thought of 'Asbestos Julie', I was totally thrown. Of course she was referring to a current Federal Minister who used to be a defendant lawyer for CSR in asbestos litigation cases, and has been given the nickname, "Asbestos Julie" by some anti-asbestos campaigners – but I could only think of one Julie – my Julie.
A Forgotten Dream
Tomorrow is a forgotten dream, we bare our soul in loss, thinking only of what could have been and was!
We are forced to plan a whole new future, to walk an unknown road without our loved ones by our side.
Never needing to move on, but  with visions and memories in our minds, trying to move forward.
We are…  wives, husbands, daughters and sons, parents, brothers and sisters, friends and mates.
We are, work related bereaved – we didn't need to be!
After the service, bereaved family and friends had lunch at the Holiday Inn in Darling harbour.  This is always a highlight, generously put on by the organisers, SafeWork NSW and Unions NSW, it gives those of us who have lost a loved one due to workplace tragedy a chance to catch up.
May our hearts go out to all who have lost, and may this day of International Mourning always serve as a reminder to put safety first at work and make corporate greed a thing of the past.
Again, thank you to all at Unions NSW who put on this service and to SafeWork NSW.
To see a large album of photos of the day click here.
Blessings,
Rod Smith
Awareness and Support Co-ordinator
Bernie Banton Foundation