AUSTRALIAN WRITTEN GUIDE FOR THOSE DIAGNOSED WITH MESOTHELIOMA
The June 2017
Cancer Council Australia

edition of Understanding Mesothelioma is aimed at all sufferers of malignant mesothelioma – in particular pleural and peritoneal mesothelioma, the two main primary forms of malignant mesothelioma.
A really handy reference for any newly diagnosed sufferer of malignant mesothelioma of any type.  This information booklet was written in Australia, for Australians, after consultation with sufferers of mesothelioma, their carers and family members, and also leaders in the support, medical and legal fields.  It was written with the everyday person in mind to help guide those involved through the mesothelioma journey.  The Bernie Banton Foundation Support Co-ordinator, Rod Smith was a contributor to both the original 2011 mesothelioma booklet and this edition, as well as to the peritoneal mesothelioma fact sheet referenced below.
The booklet can be downloaded by clicking here or on the image below.
If you, or a loved one has been diagnosed with malignant peritoneal mesothelioma, you may find it beneficial to read the Cancer Council Victoria written peritoneal mesothelioma specific fact sheet: Understanding Peritoneal Mesothelioma 
NOTE: Both the booklet and the fact sheet have been written for the Australian demographic, so some specific information will only apply to Australia and Australian sufferers and their loved ones.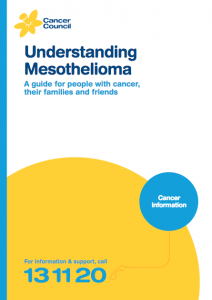 ---
Supportive Care Options
Supportive Care Options is about maintaining or improving quality of life for sufferers of asbestos or dust related disease, at the same time allowing their loved ones to also have a quality of life during all stages of the disease.  It is about working out what support and care options are available, and then putting in place strategies to help sufferers and their loved ones navigate the journey ahead in the best possible way.
Supportive Care Options should be discussed as soon as possible after diagnosis with your treating physician, hospital social worker or other care providers.  You should also talk immediately with a specialist asbestos dust litigator regarding possible compensation.
---
Find Out More
To find out more to go to the Support section of this website by clicking [here].
The breath beneath your wings®
Please Note:  The 'owners', administrators and editorial contributors to the berniebanton.com.au website are not accredited to provide advice.  The information and/or advice provided, is published in good faith for assistance only, and should not be relied upon for making decisions.  The advice of relevant experienced qualified specialists should always be sought before making any decisions.