About:
ROD SMITH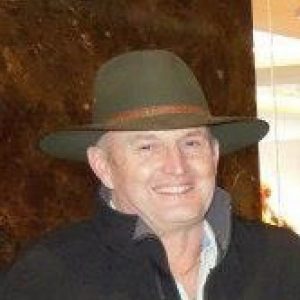 Rod was born in the late 1950s, spending his formative years in the Western District of Victoria, where his parents had a dairy farm; and were prominent in the 'equestrian world', with he and his two older brothers successfully competing in agricultural shows and equestrian events across Australia.
After leaving Secondary College, where he majored in business and commerce,  Rod had an interesting and varied initial working life, including training and working as a broadcaster; riding track work for the legendary racehorse trainer, the late Bart Cummings; training and working as a house painter; and installing roadside safety fencing on 'Bells Line of Road' in the NSW Blue Mountains.
Rod has owned and operated a number of small businesses, including: training equestrian horses; a rural fencing and farm maintenance business; a house painting business; and an Australian-wide horse transport business. From the mid 1980s until 2013 he was the managing-director, and owner of a respected mobile crane and transport company he founded on the Mornington Peninsula, Victoria, Australia.
In 2008, Rod's life changed forever when his life partner of over 23 years, Julie was diagnosed with the terminal asbestos cancer 'mesothelioma'. Rod became heavily involved in the 'asbestos world', voluntarily becoming the president of the Asbestos Diseases Society of Victoria (ADSVIC); and co-ordinator and facilitator of its' support group. It was during this tenure Rod pioneered online support, bringing individuals and groups together from across Australia, and indeed the world, face-to-face via Skype.  Via the Bernie Banton Foundation, Rod expanded on this to run Australia-wide online support groups via the social media medium, Facebook.
In 2010 Rod was instrumental in advocating for, and working with Council Council Victoria to produce and contribute to a world first booklet on mesothelioma entitled Mesothelioma – A guide for people living with cancer, their family and friends  It was released in September 2011 shortly after Julie died,  Cancer Council Victoria honoured Julie by dedicating the booklet to Julie and fellow deceased mesothelioma sufferer (and friend) Farid Moghaddis, along with giving input credits to Rod.
In early 2011, Rod stood down from his roles with ADSVIC, and also put his business interests on hold, to concentrate on caring for Julie full time. Julie passed away, at home; with her much loved family and two beloved dogs by her side, later that year.
Rod joined the Bernie Banton Foundation in January 2012, in a voluntary capacity, as its Awareness and Support Co-ordinator, utilising over 30 years of business experience, and the unenviable life experience gained during the journey he shared with Julie throughout her illness. The individual tragedy of each losing their soulmate to mesothelioma, brought Rod and Bernie Banton's widow Karen Banton together, and they married later that year.
October 2012, following nearly 3 years of lobbying, saw a dream realised when Rod successfully instigated the forming of the National Network of Asbestos Related Disease Support Organisations – a voluntary informal alliance (or 'peak' body) of all the recognised asbestos disease support organisations in Australia.
Not having the heart, or inclination without Julie by his side, to 'kick start' or resurrect the company he started nearly 30 years previously, Rod made the heart wrenching decision to close the company for good in June 2013, to allow him to dedicate his time solely to the Bernie Banton Foundation. The year 2013 also saw Rod complete a nationally accredited Certificate IV course in Community Services Work, as well as a Cert. IV in Christian Ministry and Theology.
From 2012 Rod oversaw the establishment and growth of the foundation's Mesothelioma and Asbestos Related Support (MARSupport) Australia Network operating Australia wide and also offering support to New Zealanders.
Rod advocated Cancer Cancer Australia to produce, and he contributed to, a nationally released Peritoneal Mesothelioma Fact Sheet published in 2016.  After successfully advocating for an updated booklet, covering both pleural and peritoneal mesothelioma to be released, Rod contributed to the revised (current) version, Understanding Mesothelioma published in May 2017.
Rod is a man of faith, he is apolitical and a self-described 'humanitarian'. His full time passion was offering peer-based support to asbestos related disease sufferers, their carers and families, creating awareness amongst the general public regarding the dangers of asbestos, advocating on asbestos-related issues (locally and globally) and being a voice of reason for asbestos related disease sufferers and the broader community, Australia wide.
Until its' closure in June 2020, Rod and Karen ran the foundation from its offices in Sydney NSW and Melbourne, Victoria all the time offering 24/7 peer-based support via the foundation's Asbestos Disease Helpline.
Rod is a Board Member of the Australian, NSW State Government, Dust Diseases Board; a Member of the Australian Mesothelioma Registry Expert Advisory Group to the Australian Institute of Health and Welfare [March 2018 to July 2020]; and an Honorary Life Member of the Transport Workers Union (TWU).
The breath beneath your wings®