BERNIE BANTON FOUNDATION SOCIAL MEDIA SITES
The
Bernie Banton Foundation

Social Media Network is Facebook based. It is in place to help people keep informed about the Bernie Banton Foundation, Mesothelioma and Asbestos Related Support (MARSupport) Australia, Asbestos Awareness Australia, fundraising events, patient asbestos advocacy, asbestos and mesothelioma news from around the world; and asbestos awareness and asbestos related diseases information (see the sites listed below).
BERNIE BANTON FOUNDATION SOCIAL MEDIA COMMUNITY USE POLICY
The Bernie Banton Foundation would like everyone to be able to view and participate in our groups and pages in a safe and inclusive environment.  Before commenting or posting in any of the Foundation's groups or pages, please read and familiarise yourself with  the Foundation's Social Media Community Policy by clicking on the image below.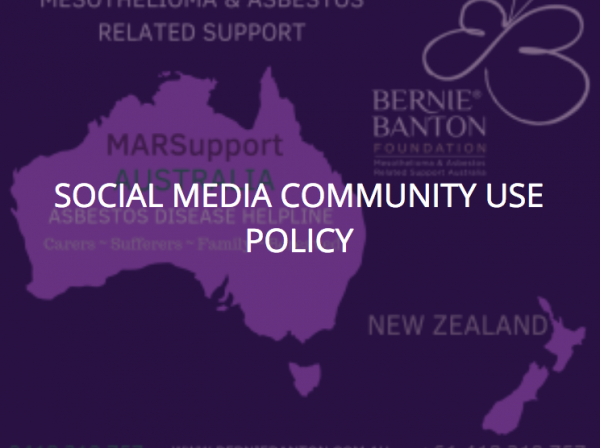 If you, or a loved one has been diagnosed
with MESOTHELIOMA ASBESTOS CANCER or another ASBESTOS RELATED DISEASE and you would like to talk to somebody who knows what it feels like to be in similar circumstances to what you are in, whether you are a sufferer or carer, please phone the Foundation's 24/7 Support Helpline.
*The Bernie Banton Foundation and the site administrators do not endorse or vouch for the accuracy of any posting or comment that appears on the above Facebook and Twitter sites, before relying on and/or using any such information, you should satisfy yourself on its authenticity and/or suitability for use.