Downloadable  icare Dust Diseases Care – Lung Screen Brochure
If you would like to know more about the  icare Lung Screen unit, download the brochure by clicking here or by clicking on the brochure image below.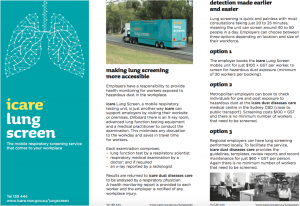 Employers have a responsibility to provide health monitoring for workers exposed to hazardous dust in the workplace.
icare Lung Screen, a mobile respiratory testing service, is just another way icare can support employers by visiting their worksite or premises across NSW.
icare Lung Screen provides health monitoring for workers exposed to hazardous dust in the workplace. The service consists of an X-ray room and advanced lung function testing equipment, all conducted by a qualified medical practitioner.
The painless examination takes 20 to 25 minutes meaning up to 50 employees can be screened in one day. A report is later provided to each worker, and further support through icare dust diseases care if necessary.
Employers can choose the right service option depending on location and size of their workforce.
If you, or a loved one has been diagnosed
with an ASBESTOS RELATED DISEASE and you would like to talk to somebody who knows what it feels like to be in similar circumstances to what you are in, whether you are a sufferer or carer, please phone the Foundation's 24/7 Support Helpline Freecall® number: 1800 031 731
Note: The Bernie Banton Foundation is not accredited to provide advice.  The information and/or advice provided is for assistance only.  The advice of a qualified specialist, should always be sought before making legal or medical decisions.