UNITED KINGDOM WRITTEN 'THE MESOTHELIOMA HANDBOOK'
This information booklet was written in the United Kingdom, it is very relevant for general information about mesothelioma, treatments and care factors, however, some of the information is particular only to the target demographic of the United Kingdom.  So please when reading it, bare this in mind.  To download the booklet click here, or click on the image below.
If you live in Australia, we would recommend you download and read the Australian written booklet: Understanding Mesothelioma – A guide for people with cancer, their family and friends
If you, or a loved one has been diagnosed with malignant peritoneal mesothelioma, you may find it beneficial to read the Cancer Council Victoria written peritoneal mesothelioma specific fact sheet: Understanding Peritoneal Mesothelioma NOTE: This fact sheet is written for the Australian demographic, so some specific information will only apply to Australia and Australian sufferers and their loved ones.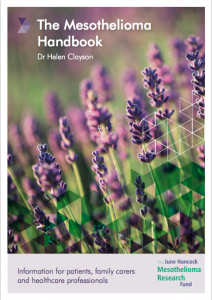 If you, or a loved one has been diagnosed
with MALIGNANT MESOTHELIOMA and you would like to talk to somebody who knows what it feels like to be in similar circumstances to what you are in, whether you are a sufferer or carer, please phone the Foundation's 24/7 Support Helpline Freecall® number: 1800 031 731
Note: The Bernie Banton Foundation is not accredited to provide advice.  The information and/or advice provided is for assistance only.  The advice of a qualified specialist should always be sought before making legal or medical decisions.