TRAIL TO TRIUMPH
Moranbah to Mckay Qld 250 kms Ultra Marathon ~ OCTOBER
Trail To Triumph 'Tony's journey', a 250 km 'Ultra Marathon'  is an annual fundraising event run by Mat Britton and the Trail To Triumph Team.  The event is run in outback Queensland in early October each year, to honour the memory of Mat's dad Tony, and to raise funds for the Bernie Banton Foundation.
Before Tony Britton's death caused by mesothelioma asbestos cancer, in March 2014, Tony asked his son Mat Britton to support the Bernie Banton Foundation.  Mat Britton envisaged and created Trail To Triumph 'Tony's Journey' later on in 2014 as means to honour the memory, and wishes of his late father.  Trail To Triumph is now the largest source of fund-raised donations to the Foundation annually, helping the Foundation to continue to provide support to asbestos related disease sufferers, and their loved ones across Australia and to New Zealanders. Not only is Mat the founder, and one of the main driving forces of the annual Trail To Triumph Ultra Marathon, he has been the lead runner in every event run.  Read more about Trail To Triumph and Tony Britton, the man who was the inspiration behind the event, below.
Tony Britton – The Man, The Inspiration..
An inspiring coach, astute business person, generous friend and loving husband, father and grandfather are some of the ways the community has described Tony Britton.  He dedicated more than 40 years to youth development and community interaction, which saw him named 2014 Citizen of the Year.  In March 2014 Tony lost his battle with Mesothelioma, a rare and currently incurable cancer caused by asbestos exposure.  Tony's son Mat has since founded 'Trail To Triumph – Tony's Journey'.  Trail To Triumph (TTT) is an annual event, which entails the running of 250km of arduous outback terrain in 2.5 days, held to commemorate the life of his dad, raise funds for the Bernie Banton Foundation and also raise awareness of mesothelioma.
2014 Citizen of the Year
Many will attest to the commitment, dedication and long hours Tony spent with the youth of Mackay, training, coaching and mentoring some of the region's, Queensland's and even Australia's most talented soccer/Football players.
Tony was named Citizen of the year in 2104 before he passed away
Dedicated Coach and Mentor to Football Youth
Active Member in the Mining Region and business community
Manager of a successful Engineering business
Why Moranbah & Mackay?
As Tony worked and participated in the Moranbah community for many years, he would frequently travel between Moranbah and Mackay for soccer, and his family would always follow. In particular his sons Mat and Dan who built their passion for football from Tony's dedication and excitement of the sport. It was often an arduous journey, which is a very appropriate way to describe TRAIL TO TRIUMPH – Tony's Journey.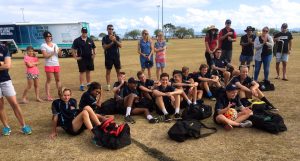 Tony Britton Memorial Cup
The run starts at the Moranbah Hawks Junior Soccer Club and finishes 2.5 days later at the Mackay Crusaders Soccer Club, both clubs that Tony played a big part in.  Once the runners arrive, the two junior soccer teams then play off for the prestigious 'Tony Britton Memorial Cup'.  A fitting way to showcase the legacy of Tony's Journey – a Trail To Triumph!

If you, or a loved one has been diagnosed
with MESOTHELIOMA ASBESTOS CANCER or another ASBESTOS RELATED DISEASE and you would like to talk to somebody who knows what it feels like to be in similar circumstances to what you are in, whether you are a sufferer or carer, please phone the Foundation's 24/7 Support Helpline.
Note: The Bernie Banton Foundation is not accredited to provide advice.  The information and/or advice provided is for assistance only.  The advice of a qualified specialist, should always be sought before making legal or medical decisions.