Bernie and I gave some thought to the idea of a foundation bearing his name, around the time of his diagnosis in August 2007 with mesothelioma, an asbestos-related cancer.  Following Bernie's initial diagnosis of asbestosis in 1999, he became a passionate fighter for justice on behalf of asbestos disease sufferers and their families.  Bernie was also a man of great compassion.  He felt it both humbling and an honour to effect positive change and inject hope for Australians everywhere, through his 'never take no for an answer' attitude.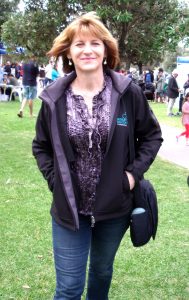 Although Bernie's quality of life was greatly diminished by the breathlessness he experienced, he considered himself to be 'one of the lucky ones'.  Indeed, Bernie was blessed with a God-given strength and inspirational words to be an influential voice.  Only months before his passing, Bernie gained victory against a corporate giant via a tide of wonderful support from family and friends, unions, media, politicians, the general public, and of course asbestos disease sufferers and their families.  Through faith, Bernie and I faced and were able to overcome every battle'.
I feel very blessed as in 2012, I married an equally dedicated anti-asbestos crusader, Rod Smith.  Together with his late partner Julie, Rod experienced her tragic journey of the 'process of dying' as he lovingly cared for her, whilst President of a Melbourne-based asbestos related disease society.
Julie was diagnosed with mesothelioma in July 2008, her exposure to deadly asbestos had been some fifty years earlier through her Dad, unwittingly bringing asbestos fibres home on his clothing from his workplace.  Julie valiantly fought her condition with amazing courage and grace, losing her battle in September 2011.
Rod and I feel incredibly privileged to be able to continue Bernie's and Julie's legacies.  I know both Julie and Bernie would be really pleased and proud concerning the hope, support, patient advocacy and awareness being offered by the Bernie Banton Foundation.
I founded the Foundation in 2009, for only one reason, to uphold what Bernie believed in; to assist people to navigate the difficult journey an asbestos related disease diagnosis presents; to enable people to have informed choice about specialist dust litigators and medical professionals; to prevent people being exposed to asbestos dust/fibres by creating awareness of mesothelioma asbestos cancer, and other asbestos related diseases; and to advocate for, and to be:
'The voice of reason for Australian asbestos related disease sufferers, their carers and loved ones, allied health and care providers, and to the wider community.'
Kindest regards,
Karen Banton
The breath beneath your wings®