About:
KAREN BANTON-SMITH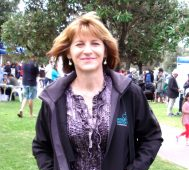 Karen was a strong advocate on behalf of asbestos disease sufferers and their families, fervently continuing the legacy left by her late husband Bernie Banton AM.
Bernie was widely recognised as the public face of the legal and political campaign fought in Australia from the early 2000s until 2007, to achieve a binding agreement with James Hardie Industries for a long term compensation fund for the many sufferers of asbestos-related diseases (ARD) who were exposed to the company's asbestos containing products.
During those all-consuming years Bernie spent as the public face for asbestos-disease sufferers of Australia, behind the scenes, Karen very much 'walked the walk' with him. Karen was every bit as passionate as Bernie for the cause, and even more so with his passing in November 2007. In Australia she became the public face for this mission and the ongoing fight for justice.
Karen cared for Bernie as he suffered pleural plaques, asbestos related pleural disease and asbestosis, and she ultimately nursed him as he bravely endured mesothelioma (diagnosed in August 2007). Bernie lost his battle, dying at home on the 27th of November 2007.
Karen added to her undeniable life qualifications gained through living the asbestos related diseases journey with Bernie, and the many years since with the Bernie Banton Foundation, by attaining nationally recognised qualifications in Community Services and a Diploma in Christian Ministry and Theology.
Her comprehensive understanding of how these diseases adversely affect sufferers and their families is evident in the compassionate manner in which she dealt with all who are touched by these insidious conditions.
In 2009 Karen, together with a number of supporters, founded the Bernie Banton Foundation, to uphold what Bernie believed in; to assist people to navigate the difficult journey an asbestos disease diagnosis presents; to enable people to have informed choice about specialist dust legal litigators and medical professionals; to prevent people being exposed to asbestos by creating awareness of the danger it presents; and to advocate for, and to be:
'The voice of reason for Australian asbestos disease sufferers, their loved ones and allied treatment and care providers.'



The breath beneath your wings®