MOBILE AWARENESS AND EDUCATION RESOURCE CENTRE
Awareness and Education Unit
The Bernie Banton Foundation's Awareness and Education Unit's purpose is to provide information about malignant mesothelioma and other asbestos related diseases; and educate people about, and create awareness of, the dangers of asbestos. It has been established to help make asbestos a topic people are interested to know about, and more importantly, to be convinced of the danger it presents!
The Awareness and Education Unit is fully equipped to allow the Unit to exhibit at conferences, inside trade and home shows, shopping centres and the like, or give presentations at schools, in meeting rooms, halls etc.
The Unit's Mobile Awareness and Support Resource Centre – Stan's Van is equipped to stand alone, such as in a car park; at a community market; home show; trade fair; conferences etc.
Mobile Resource Centre
Stan's Van
Dedicated in memory of Stergos (Stan) Moutzouris – who succumbed to mesothelioma (asbestos cancer) on the 26 Feb 2010. The generosity of family and friends of the much loved Stan Moutzouris has helped make 'Stan's Vans' a reality.
Stan's Van has been designed for outdoor use and touring, it has been designed to attract people to it, not go in it – in effect it is a four-sided mobile billboard. To save on touring costs it has rudimentary living quarters, office facilities [including printing and brochure making equipment] and storage area. The fully branded tow vehicle gives heightened visual attraction, whether travelling or exhibiting.
It is fully self-contained, and is generally able to be set up literally anywhere within an hour. It has a large roll out awning (with walls), and its own power source (12 volt solar generated battery powered 240 volt inverter technology) capable of silently running all promotional and in-house printing equipment. Internal natural light and ventilation is via roof skylights (with fan assist) above the sleeping, living and office/storage areas. This was done to allow clear space on the sides of the unit for promotional branding, without having to allow for windows, etc.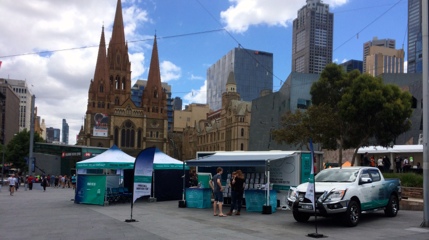 Stan's Van Space Requirements
Stan's Van is 6.8 metres long – including draw bar (this is slightly longer than a small sized shipping container), 2320mm wide and 2900mm high. Tare (empty) weight is 1400 kg; loaded weight is approximately 3500 kg. Wheelbase (distance from hitch point to centre of axles) is 4400mm; with a 2200 overhang (distance from centre of axles to rear of van). Minimum space required for full set up of the van only is approximately 9×4.5 metres, with the tow vehicle attached, approximately 12.5×4.5 metres. This allows for all displays and promotional materials to be under the cover of Stan's Van's roll out awning and annex.
Other Awareness and Education Unit Equipment
Equipment available includes: Stan's Urban Van [a compact people and equipment mover]; Four (2 x heavy duty and 2 x lighter duty compact) 'stand alone' joinable 3×3 metre 'branded' marquees, indoor, and also fully waterproof 'all weather' pop up banners; all weather flexible banners and stand-alone 'tear drop' banners, tables (with branded covers) and chairs; fold up display lecterns; multifunction display/media walls; A4 leaflet/brochure display stands holding an extensive array of literature; and 2 x 12 volt/240 volt video screens with inbuilt DVD players; a projector with screen for use at indoor venues; battery powered flood lights and cooling fans; long life portable heavy duty power packs and 2 x silenced generators; and for hot days, office type water coolers. The unit also has a 600 watt portable 240 volt PA system (large enough capacity to use outdoors) and a smaller fully self contained 100 watt 12 volt portable PA system – both systems have wireless microphones.
Branding
To attract, and help engage people, the vans and all promotional equipment have been designed and branded by Relax Design (the same marketing team that is behind the McGrath Foundation). The message is clear with the graphics designed to be 'catchy' and to draw people in. Stan's Van and Stan's Urban Van have been designed to be visually eye catching and act as mobile billboards, and to compliment our branded marquees and other collateral.
Follow the Bernie Banton Foundation's Awareness and Education Unit via: