THE BERNIE BANTON FOUNDATION'S AWARENESS AND EDUCATION UNIT
Bernie Banton Foundation founding director – Professor Bruce Robinson talks about the foundation and launching the Awareness and Education Unit
Asbestos disease…    takes your breath away!®
It has long been held by the foundation's founder and CEO, Karen Banton and Rod Smith, the foundation's Awareness and Support Co-ordinator, that the key to eradicating asbestos related disease lies in two areas: research to find a cure; and education about the danger of asbestos and how to MANAGE THE RISK, to prevent people contracting the disease in the first place.  Research is in the hands of the medical profession – and yes, we promote and advocate for research, however cannot actually do the research ourselves.  So, that leaves education and awareness!
The question is, "How do we educate people about a problem that only really hits home, when and if they, or someone they are close to is diagnosed with an asbestos related disease?  How do you impress on people the danger of something whereby, if they are exposed to its dust or fibres, they may be diagnosed in 20, 30, 40 years or even longer with a debilitating or fatal disease?"
The answer was to set up an Awareness and Education Unit with a dedicated asbestos awareness division and mobile resource centre.
Awareness and Education Unit
The Awareness and Education Unit's purpose is to provide information about malignant mesothelioma and other asbestos related diseases; and educate people about, and create awareness of, the dangers of asbestos. It has been established to help make asbestos a topic people are interested to know about, and more importantly, to be convinced of the danger it presents!
The Bernie Banton Foundation's Awareness and Education Unit provides asbestos disease related and asbestos related information to the general public:
Online via: Our comprehensive website – Social media news, information & support sites – e-Newsletter & Newspapers
In person and by phone (our Freecall peer-based Support Helpline is open 24 hours a day, 7 days a week)
Conducts symposiums, seminars, information sessions and, attends and exhibits at conferences, home shows, community events etc.
The Awareness and Education Unit is fully equipped to allow the Unit to exhibit at conferences, inside trade and home shows, shopping centres and the like, or give presentations at schools, in meeting rooms, halls etc.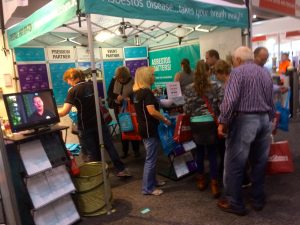 The Foundation's Awareness and Education Unit's Mobile Resource Centre – Stan's Van is fully 'stand alone' equipped to exhibit at home shows and similar community minded events in both metropolitan & regional areas to promote asbestos disease related, and asbestos related awareness and support.
Asbestos disease…    takes your breath away!®